Astronomy and Space Physics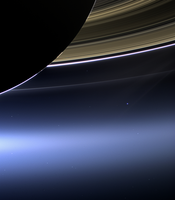 Welcome to the UU Astronomy and Space Physics seminars. They usually take place on Thursdays at 1400, somewhere in Ångström laboratory.
The schedule below also includes information on Master, Licentiate, and PhD presentations, and some other events. Please contact Anish (anish.amarsi at physics.uu.se) to have events added to the schedule.
Subscribe/unsubscribe to the mailing list here: https://lists.uu.se/sympa/info/physics-astro-seminars .
(Image: Cassini's Pale Blue Dot; NASA/JPL-Caltech/Space Science Institute)